School Library Welcomes Donation Of Over 180 New Books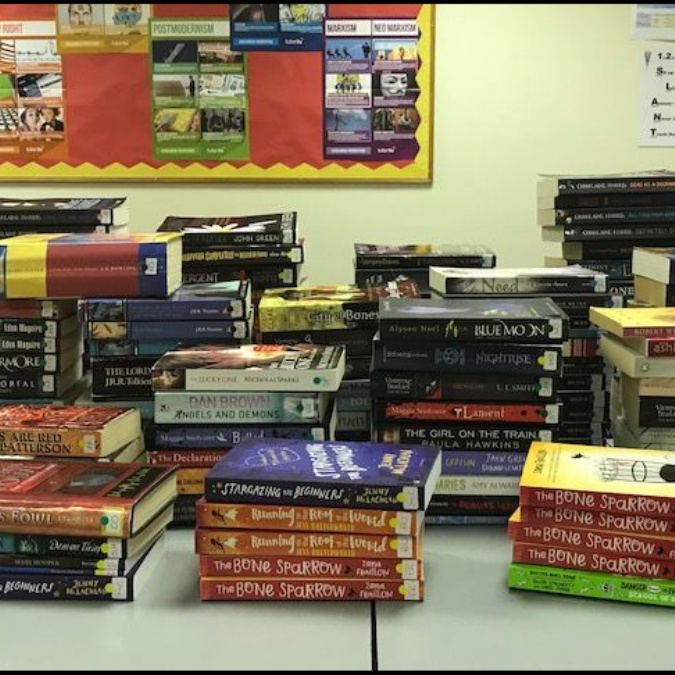 Titles such as the Hunger Games, Lord of the Rings and Harry Potter will be available for students.
The Robert Napier library has today received over 180 new books for students across the school to read and enjoy.
BookTrust, a leading charity, donated a package of brand new books. The texts will be available for students to start borrowing by the end of this term. Alongside the donation from BookTrust, Mrs Callow and Mrs Rafferty have kindly brought in their own collections.
The new books include the full Hunger Games and Lord of the Rings trilogies, as well as Matilda by Roald Dahl, Girl Online by Zoe Sugg and Looking for Alaska by John Green. A series of books have also been given to the Sixth Form; these books will be placed in the study centre.
Year 7 and Year 8 students are given the opportunity to work in the library once a fortnight, as part of their English timetable. In those library lessons, pupils are encouraged to pick their own books to read, in and out of lessons. Every time they finish a book, they quiz themselves within 24 hours, using a programme called Accelerated Reader (AR). The link to AR can be found here: https://ukhosted64.renlearn.co.uk/1959548/
We would like to say a huge thank you to BookTrust, Mrs Callow and Mrs Rafferty for their generous donations. If you feel you would like to donate new or used books to our library, please just contact the school – we are always more than appreciative!