Year 8 Historians Travel To Ypres, Belgium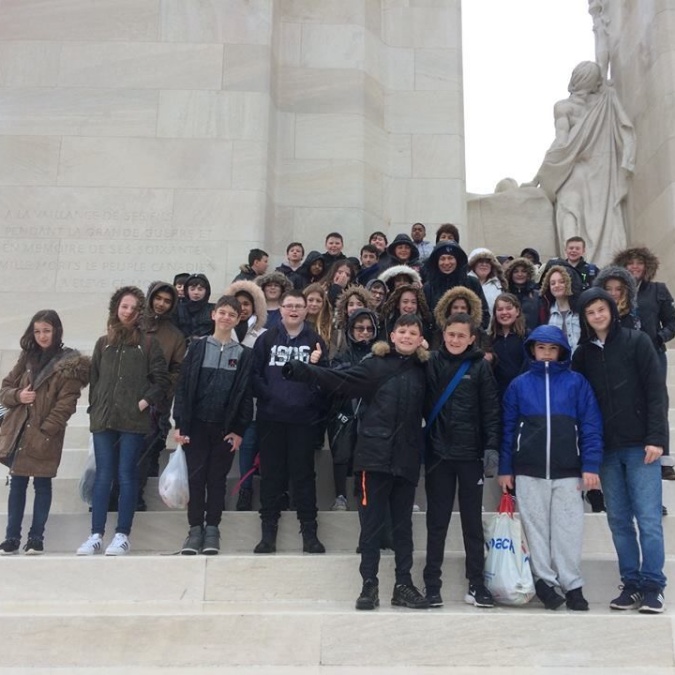 A highly entertaining, successful and respectful trip to Belgium for 41 students.
On Thursday 8th March, a group of 41 students from Year 8 set out to Ypres, Belgium, to increase their knowledge and understanding of life in the trenches during World War 1.
Their first stop was the town of Passchendaele and its famed memorial museum. The young historians experienced reconstructed trenches, as well as exhibits that allowed them to pick up a soldier's equipment and observe some of the artillery shells that were fired. Following the museum, they arrived at their accommodation in Ypres and students were stunned at the fact they were expected to have to make their own beds and unpack their lorry load of belongings! However, this was completed very quickly and their next destination was the iconic Menin Gate, a memorial to the fallen British soldiers who had no known grave. The students were very respectful of the sacrifice made by these soldiers and represented the school fantastically.
On day two, a busy morning started with a visit to the nearby town of Poperinge, a place where British soldiers could retreat for some downtime. The Talbot House museum allowed students to consider how the soldiers would have felt being away from the horrors of frontline trenches. It also allowed them a break from walking and a complimentary cup of tea. In the afternoon, a quick pit stop at a local waffle shop saw incredible amounts of Nutella being consumed by students and staff alike. This also included the unseasonable purchase of ice creams too. Afterwards, the group's local tour guide provided students with accurate historical information when touring the various war cemeteries to the British fallen on the Ypres-Salient. Students were particularly aghast at the grave of a 15 year old soldier. They were also engaged by the story of a recent discovery of a deceased British Tommy, in the remains of a trench system that students were encouraged to adventure through.
The final day saw a very early wakeup call and a rapid march to the Chocolate shop for some last minute Mother's Day gifts. With the trip nearing a close and the bitterly cold weather closing in, the final stop at Vimy Ridge in France reinforced the very serious reason for the annual trip to Belgium: an understanding of the sacrifice of others. Students were guided around underground tunnels built by Welsh miners, to protect the advancing Canadian soldiers and were shocked by how cramped and dank the conditions were. A visit to the very solemn and imposing Vimy memorial for a group photo, rounded up a very successful trip, in which all students had participated with great enthusiasm and upheld the Robert Napier name.