Hundreds of Dementia Friends Across the Robert Napier Community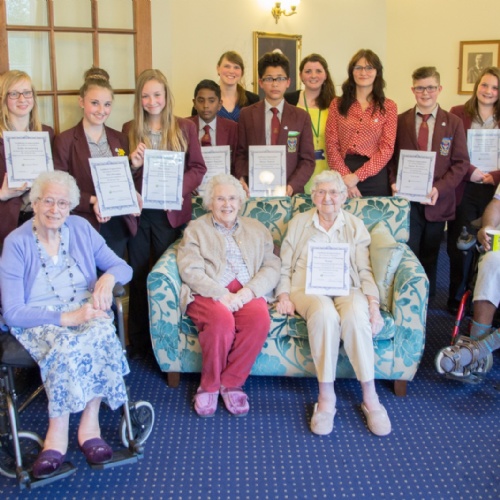 Students and staff from across the Robert Napier community have become Dementia Friends. Dementia Friends is a government programme designed to create awareness of the disease. The aim is for more people to be aware that it is not a natural part of being old but something that sufferers can live with and receive informed support from those around them.
Awareness of dementia at RNS has been driven by Mrs Cleall and her team of 14 students from Years 8 and 9. The group have been working with the charity Kissing it Better since November and have undergone plenty of training to become Dementia Friends.
The students' involvement has been comprehensive as they has helped to design and develop an app that will help dementia sufferers. The app stores memories and photographs that sufferers can access whenever they want.
Our students have sent regular feedback to the app creators requesting improvements based on their knowledge of technology. Communication included a Skype meeting with two designers to learn how to code.
Assisted by Mrs Still and Mrs Kettle, the students of RNS have brought their skills into our community by making several visits to Charing House – a care home within a short walk from school. Here students have developed relationships with local residents and shared experiences of their respective lives and forged community bonds and relationships.
The hard work and progress of the group culminated in a Robert Napier Dementia Awareness week in May that included a cake sale, a cake sale with traditional style stalls, a screening of Still Alice and then a quiz written by Brandon Raiyat. The 14 students driving the scheme are; Brandon Raiyat, Jodie Armstrong, Byron Green, Taylor Kerrison, Sheun Samuel, Joel Haines, Sharlie Sleney, Ellie Stringer, Amy Joyce, Thomas Powditch. Adam Carr, Sol-Yin Law, Sangeeth Ragulan and Alicia Carroll.
The hard work continues as more of our community become Dementia Friends.
Find out how to become a Dementia Friend by visiting our Partners' page.