Robert Napier Alumni Inspire Future Media Thinkers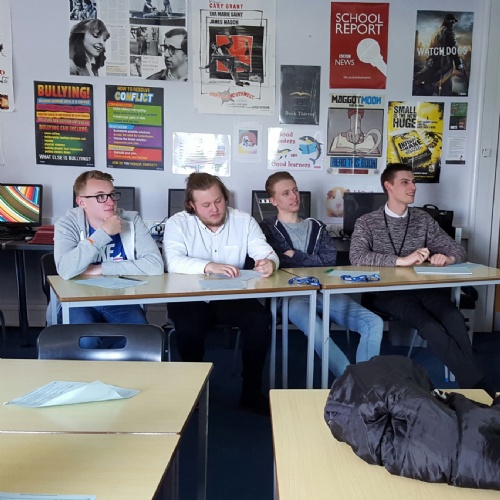 Year 10 Media students were inspired this week by a selection of former students who returned to RNS to give advice on a media product launch and inspire the class with stories of their own success.
To support their coursework, the Year 10 students have been working in teams to produce an Apprentice style audience research and product pitch for the launch of a new magazine publication. Students were aware that after 3 lessons of preparation they would present in front of a panel of former RNS media students who have used their qualifications for successful higher education and employment.
The panel included Jack Ralph who is set to graduate from Bournemouth University who have the best media facilities in the country and has recently been employed in PR for gaming companies in Brighton and London. He was also joined by Jordan Marshall who has graduated and is now a radio presenter as well as writing freelance about film. Mr Tear completed the panel along with Ben Slocombe who successfully passed A Levels at RNS last August to secure his place at Portsmouth University. Ben will also be working with the police part time soon as well as continuing with his undegraduate course.
After some excellent presentations, each group was given a grilling by the panel and offered helpful observations that they took on board. The former students were impressed with the calibre of media knowledge and presentational skills of Year 10 and the current students found the insightful feedback useful. The students certainly raised their game in the presence of a knowledgeable panel.
Each of the guests have pledged to return in a mentoring role to help current Media students progress.
The panel are currently sharing notes on the presentations and the winning team and details of their launch will be announced shortly on this page.