Girls' football picks up pace with a visit from Gillingham FC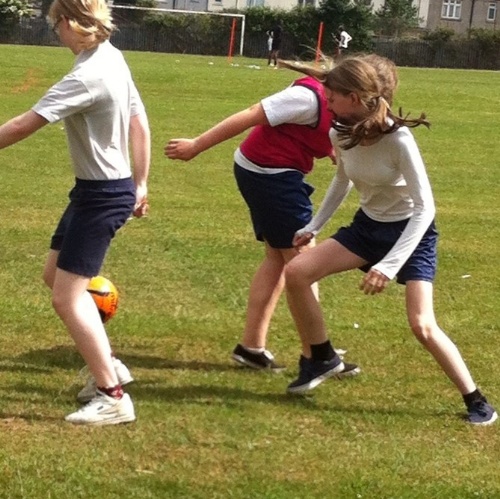 Girls' football is the fastest growing team sport in the UK. The PE staff at Robert Napier have done lots to promote the game in recent years. The school's partnership with local professional football club Gillingham FC saw our girls benefit from a GFC coaching session held at the school last week.
On Thursday 17th June Georgia Bowie (Gillingham FC) came to our school to work with a group of girls from years 7-10 to organise a football coaching session. The skills workshop was very tiring but extremely enjoyable.
We started a 9 a-side mini game where we were in a group with a line of cones going down the middle of the pitch and a select person (or people) had to go to the other side to try and get the ball. Meanwhile, the rest of the team had to prevent the others getting the ball. The game ended one-all.
After that we played a full game. It was bibs versus non-bibs. Ellie Jackson (year 8) scored 3 goals against bibs. There were about 2 shots at the non-bibs goal which were both on target but were stopped by the goalkeeper. All the girls were impressive and there was a lot of good team work and both the teams were supportive of each other. All in all it was a good afternoon and I hope that it will continue through this year and next year.
Jodie Armstrong
Year 9