Rise of the Machines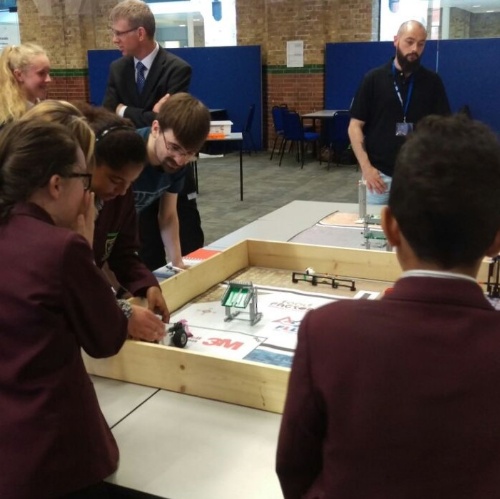 Robotics Day took place at University of Greenwich, Chatham Campus in the Pilkington building lecture theatre. Students from Robert Napier represented the school and took part in a variety of challenges.
The first was the Sustainability challenge. The brief was to come up with a way of cutting down refuse, trash and rubbish. It needed to be the most outrageous idea possible and the idea could be pitched in the form of a poster presentation, a rap, song, poem or even a play. Our students came up with some great ideas and gained plaudits for their great role play in the final de-brief.
The controlled robotics was another challenge that involved students adapting a model Lego car to a certain specification in order to perform a range of activities on a circuit. The circuit was made up of a series of roads, rivers and field parts. Tasks involved moving sheep into their pen or catching fish with the Lego cars. Using a computer programme attached to the car via USB the students had to program the car to start, stop, make a turn and command the degrees required for rotation.
It was good to see instant testing that students could really respond to straight away. Everyone was fully engaged and really enjoyed themselves.
One of our teams came very close to winning the circuit part of the day and all the students who were involved in the day received a medal.