The Alison Hinge Community Award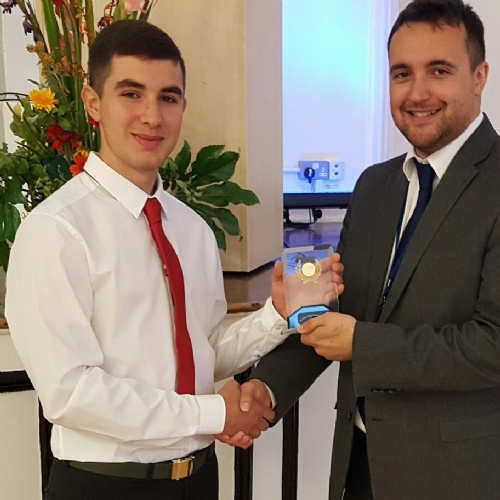 Outgoing Head Boy Ryan Filtness is the worthy recipient of the Alison Hinge Community Award for 2015. His work for the RNS Community and beyond were initially acknowledged by his nomination for the award and then by his claiming the majority of the staff vote.
The Alison Hinge Community Award is awarded each year to a student who has offered an outstanding contribution to the school community as well as the wider community that Robert Napier is part of. Ryan's qualification for this is beyond question.
Ryan was instrumental in the creation of the WW1 memorial garden by the canteen area that was featured in a variety of local media. He has been an important figure in the foundation of the Junior Leadership Team and has run a variety of community events – including writing and creating staff quizzes. As Head Boy, he has proven to be an engaging public speaker on behalf of the school and was a major part in the planning of the charity week this academic year. He has promoted IT and DT beyond the curriculum and is an excellent role model for all students.
After cultivating the garden areas by the canteen and science block and helping to keep them in great condition, Ryan has been returning to the school daily in his free time to maintain them. During this time he has also been assisting caretakers and IT staff. It is also notable that Ryan actually painted and decorated the IT rooms.
Ryan's commitment to the Cadets outside of school and their own charity events is testament to his contribution to the local community in general.