RNS Question Time 2015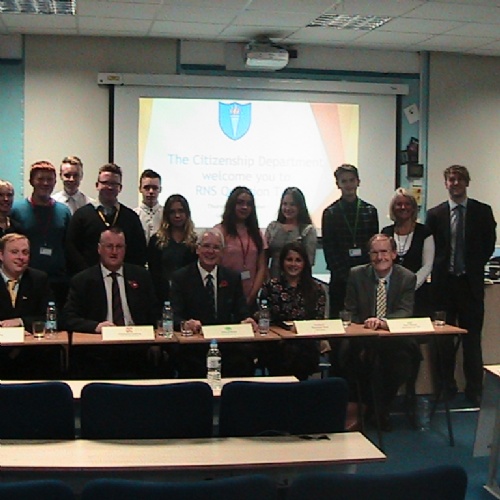 One of the most important dates on the Robert Napier calendar in engaging the wider community is the annual Question Time event organised by A level Citizenship students. Last night's event lived up to the legacy already set by past cohorts as a varied panel tackled the questions and - as expected - added according to their own agenda.
The panel was entirely different to last year with some new political faces and a return of old foes to do verbal battle in the Lecture Theatre once again. We welcomed back Councillor Mike O'Brien (Conservative) and Naushabah Khan (Labour). They were joined by Chris Sams (LibDem) and Christopher Spalding (UKIP), who were visiting our school community for the first time. The Citizenship students also pulled off quite a coup by securing the presence of Steve Johnson who - although at pains to point out he was present in an independent capacity - has a major role in the development of the new OCR GCSE in Citizenship. Steve has also written a number of published text books for students.
The questions set by students ranged from the refugee crisis to political reform; with a side focus on the impact of Jeremy Corbyn on new politics and the role education has in engaging young people. Mr Still had the privelege of introducing the questions and trying to make sure students were able to receive clear and concise answers and viewpoints.
There was no lack of socially conscious students in the lecture theatre however and thoughtful contributions came from an audience that ranged from Key Stage 4 and 5 students, staff, governors and politically engaged members of our local community. Notable input came from Sam Bending and Daniel Green who levelled questions that both divided and united the panel at times - a difficult feat indeed.
It was nice to see almost every seat filled as the Citizenship students went to great efforts to host an event that engaged the local community and got the politicians thinking about - and tweeting about - the concerns and viewpoints of the young people in the very heart of our community.
Well done to staff and students for putting on a fantastic event.