Author Creates Inspirational Mood Among Year 8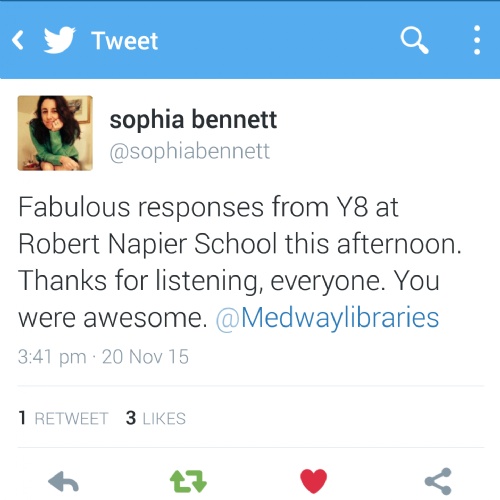 Teen fiction author Sophia Bennett came to our school on Friday and made a real impression on her Year 8 audience.
Sophia was accompanied by Medway Community Librarian Sophie Castle - who is keen to extend links and literacy programmes with RNS. It's thanks to Sophie that Sophia was able to fit us into the busy schedule that is an author's life.
The author remarked on the facility of the lecture theatre and what an impressive place for her to present her work and address the students. The main audience was Year 8 but we were pleased to see some Sixth Form students come along on a Friday afternoon to support - notably Vicky Stringer (7 year member of Book Thieves).
Year 8 listened and contributed throughout a Sophia discussed the inspiration for her books, how she creates them and the process behind the book covers that publishers use to market them. She also chose to depend on a very reliable Brooke Mercia to move on her slide show.
Sophia's reaction after the event and her subsequent social media feed made it clear how impressed she was with the engagement of the RNS students. The talk continued informally as Sophia signed copies of her new novel Castle.
Mr Hollingsbee has since heard students discussing characters they are planning to design and how they might use mood boards in the same way that Sophia talked about.