The Challenger Troop Awards Presentation Evening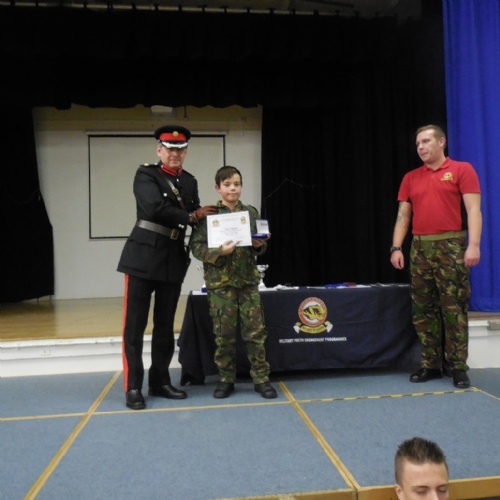 The continued success of Challenger Troop was celebrated once again this month as the RNS students who have decicated time and effort to the scheme were publically recognised with awards and plaudits. Mrs Alder reports on a wonderful night.
Last week at Meadowfield School Sittingbourne saw the wonderful opportunity for Parents and Carers of our Challenger Troop students to be presented with certificates medals and t-shirts as a reward for the completion of the Grp7 Challenger Troop programme.
Dominic Care K03, Liam Care K15, Katie Moorcroft K07, Nathan Powditch E14,Beau Eddy H09, Tyler Edwards K02, Alfie Marriott E12 were all presented with certificates for successfully completing phase 1 course.
The Young Navigator Award Phase 1 certificate was presented to Nathan Powditch E14, and Tyler Edwards K02.
Commendation awards for outstanding effort throughout the course and offering support to other students were given. Alfie Marriott E12 received such an award for his Public speaking that captivated the whole group when giving details of his fund raising campaign : Help save Ruby Laura.
Tyler Edwards K02 and Katie Moorcroft K07 received the fitness award for completing some gruelling tasks.
It was a marvellous evening for all students. A special thank you to Mary Wright and Caity Callaghan for coming along to support the group.
Mrs Alder