Rockingham Speedway Trial Day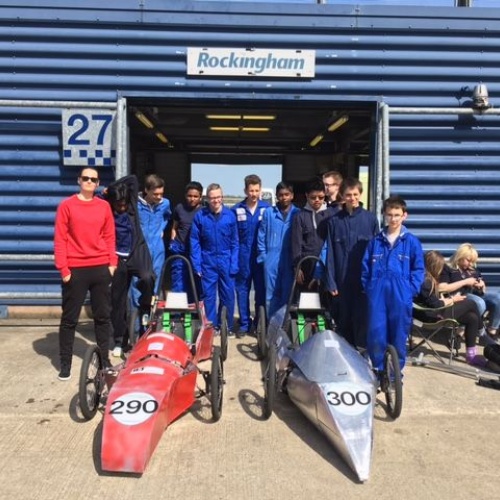 On Wednesday 4th May 2016, a small group of students set off very early to travel by minibus to Rockingham Speedway
Over the last few terms these students have been designing, building and wiring two Go Karts. This was their first opportunity to see what they would be like on a race track.
On arrival, students had to unpack the Karts from the trailer and set them up in the pits ready for a bit of last minute maintenance. Unfortunately, one kart had a puncture which needed to be repaired and the other had a wiring issue, which meant the horn was constantly on and the brake light didn't work!
After a bit of maintenance by the students, both karts had to be tested before being allowed onto the track. This involved checking the brakes, the body work and many other parts of the karts.
Once the karts had passed the tests, they were ready to race, just in time for the final race of the day. The karts had to be pushed to the starting grid by another member of the team. Unfortunately for the red kart this is where their chain fell off and they were unable to get it back on in time. However, the silver kart, expertly driven by Jackson Twidle, Sol-Yin Law and Challon Merritt, completed the 90-minute race.
It was a great day for the students and gave them valuable experience in what it takes to race Go Karts.
Miss L Spooner and Miss A Rance
'I enjoyed sorting the kart out to make it work properly but the main part I enjoyed was when we got to race the kart' – Jackson Twidle, Yr 9
'I enjoyed trying to fix the problems that we had on the kart' – Raimonds Blohins, Yr 9
'I learnt more about the wires inside the car and that Greenpower have different brands of the kart.' – Jackson Twidle, Yr 9