Flight Sergeant Miller inspires at the Award Evening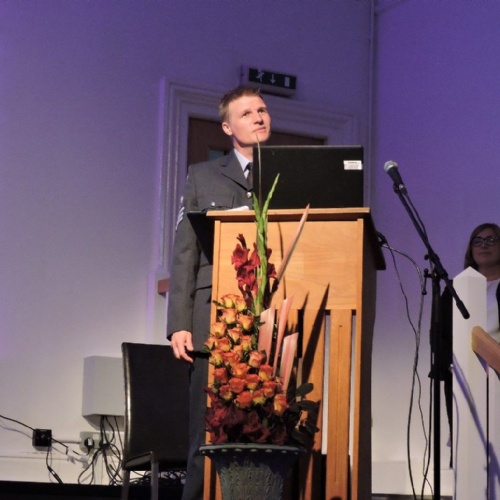 On Thursday 29th September 2016, The Robert Napier School held its Awards Evening celebrating students who had excelled in the last academic year. At the same time, the refurbished hall was formally opened
We were delighted to welcome Flight Sergeant James Miller MBE, a former student of the school, who assisted Mr Minchin in presenting the awards and gave the guest speech to the assembled VIPs, students, parents and staff.
Mr Minchin, the Headteacher, offically opened the new 'Oram Hall' in memory of Mr Hubert James Oram, who was a student at the school quite a number of years ago. In later life he moved out of the area, but obviously didn't forget The Robert Napier School or the impact it had on his life, as he left a substantial bequest to the school in his will. This bequest was used to refurbish the hall, which included the installation of the tiered seating.
Mr Minchin said " I am delighted to officially open the hall in memory of Mr Oram, in the presence of Flt Sgt James Miller MBE, both former students of our school. This event is celebrating our current students' achievements and Flt Sgt Miller is a great example and inspiration to them all'
VIPs included Mr Rehman Chishti MP, Trustees of the Thomas Aveling Fort Pitt Academy, Mr & Mrs Miller (parents of Flt Sgt Miller MBE) and the Governors of The Robert Napier School.