Napier boys continue to impress on the racetrack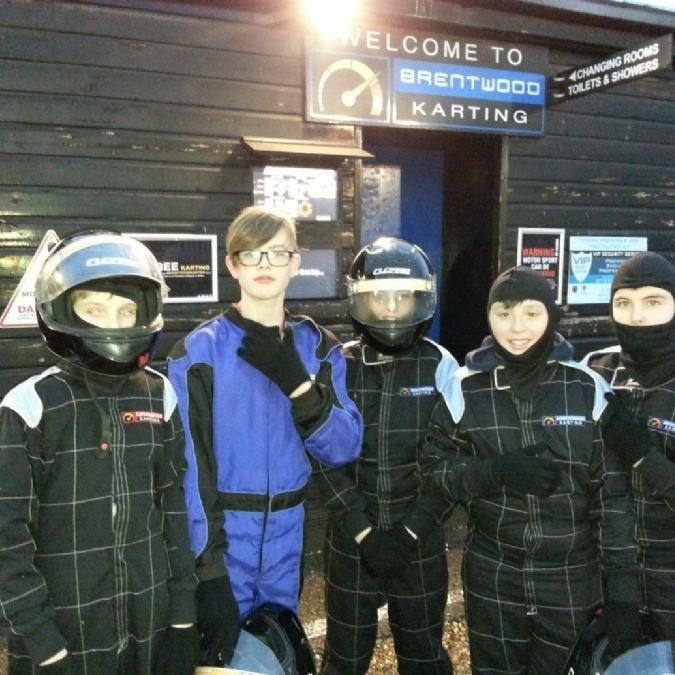 Mr Stride reports on another successful day of racing.
The Robert Napier School entered two teams into the British Schools Karting Championship this year. The event is for pupils aged 13 to 17 with or without previous karting experience. A practice session was held at Brentwood Karting Centre in January, and we have just competed in the Semi-Final, again at Brentwood. I feared the worst when the other teams arrived carrying their own race overalls and helmets, the drivers clearly at home on the racetrack.
Well, having made sure that our teams knew their way out of the pits, I stood back and watched them thoroughly enjoy themselves. Over the course of the practice session they all got to grips with the karts and improved their lap times in the face of really low temperatures. Each of our drivers significantly improved their performances over the course of the evening and hopefully returned home with a sense of achievement.
And so to the Semi Final. There were seven teams competing and I am proud to report that we came sixth… and seventh! Conditions were very difficult as it had rained all day but our drivers sensibly eased their way into the races with fewer spins than I had any right to expect. Again, the emphasis on the evening was to enjoy themselves and I am truly proud to report that not once over the course of the evening did I hear any "it's not fair!" comment. The two teams were a credit to the school in their behaviour and attitude in an event that was created, I was told, precisely to give children with no previous experience an introduction to the sport of karting.
The Semi Final teams
Jamie Kauss: Improved his fastest lap time by over 11 seconds in his last race
Nathan Kellar: Consistently fast, his fastest lap only 10 seconds quicker that his average lap time for the event. Posted the fastest single lap time of all our drivers.
Luke Sullivan: Probably the most improved driver who posted the quickest average lap time over the course of a race.
Anthony Youdle: Very close behind Luke in improvement. Over two races, he improved his average lap time by 13 seconds. That is a lot of improvement to maintain for a whole race.
Gradi O'Brien: Like Nathan, consistently fast with an impressive reduction in his average lap time of eight seconds between races.