Curriculum
Curriculum intent
At The Robert Napier School the curriculum is carefully developed to match the needs of individual students so that each student develops confidence and a sense of achievement throughout their learning journey. It is reviewed regularly to ensure it continues to fulfil the needs of the students.
Academic achievement for all – Our curriculum is ambitious for all learners. Students access a broad and balanced curriculum that is coherently sequenced and planned to ensure students develop both the knowledge and skills required to deepen their understanding. At the heart of this is a focus on numeracy, literacy, and oracy to allow all learners to access the full depth of curriculum regardless of starting point upon entry or SEND.
Strong culture of learning and positive attitudes to learning – Staff are experts in their field providing well planned and coherently sequenced learning experiences for all students, designed to help pupils remember content long term and apply knowledge to larger ideas across curriculum areas. Our students are enthusiastic learners who are actively engaging in learning opportunities, are resilient, and strive to achieve their potential.

Developing cultural capital and respect for diversity- Our curriculum develops students cultural capital by engaging students with the world beyond their own experience. Our curriculum fulfils our wider aim of developing our young people into responsible citizens who make are able to recognise and respect a wide range of viewpoints, and use their talents and abilities to make a positive contribution to society for the benefit of others as well as themselves.
Through our curriculum we aim to develop 'The Robert Napier Values' below in all students.
Learn – Respect/Trust
Believe – Persistence/resilience
Achieve – Courage/fairness
These values are embedded through the four pillars of TRNS we expect all students to engage in – community, enrichment, curriculum, and wellbeing. Through these values we enable our students to develop into aspirational young adults who have the tools they need to be successful after their school career.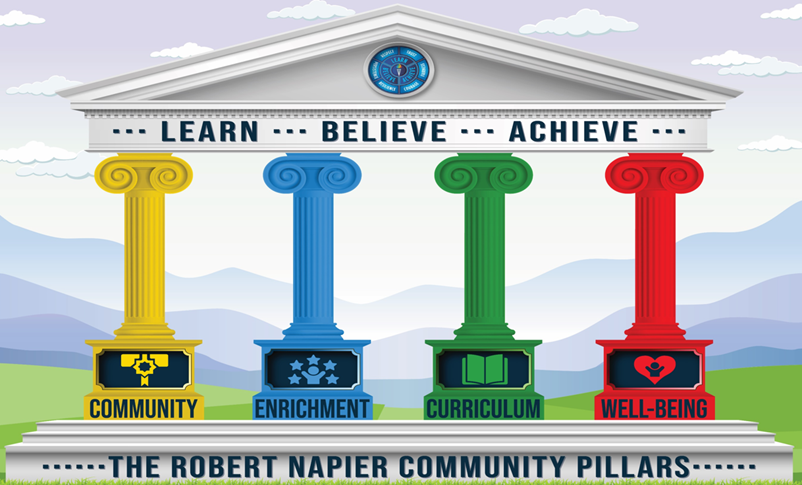 Curriculum for years 7 and 8
During their first two years at the school, students are exposed to a broad and balanced curriculum of subjects. The curriculum is designed to provide students with the foundation from which they can flourish during their studies in Key Stage 4.
Students complete the options process during the second half of year 8, in preparation for the start of their GCSE studies in year 9.
During the two-week timetable, students study the following subjects.
| | | | | |
| --- | --- | --- | --- | --- |
| English | Maths | Science | Art | Beliefs & Ethics |
| Citizenship | Design & Technology | Drama | Geography | History |
| ICT | Music | Physical Education | Spanish | |
Curriculum for years 9,10 and 11
In Year 9 students begin access some of their option choices, with a focus on skills as well as knowledge as a taster of Year 10. This is to prepare students for the rigours of GCSE study.
Students start their level 2 studies in year 10 for completion in year 11.
All students are required to follow the core curriculum. They also study 3 options from a wide range of GCSE and BTEC subjects. To ensure a broad and balanced curriculum is followed in key stage 4, all students are required to choose either Geography or History as one of their options.
Core Curriculum
| | | | |
| --- | --- | --- | --- |
| GCSE English Language | GCSE English Literature | GCSE Maths | GCSE Trilogy Combined Science |
| Core Beliefs & Ethics | Core PHSE & Citizenship | Core PE | |
Option Subjects
| | | | |
| --- | --- | --- | --- |
| GCSE Art & Design | GCSE Business | GCSE Citizenship | BTEC Dance |
| BTEC Drama | VCert Engineering | GCSE Geography | BTEC Health & Social Care |
| GCSE History | Vocational Award in Hospitality & Catering | BTEC ICT | VCERT Music |
| GCSE Philosophy & Ethics | GCSE Photography | GCSE Psychology | GCSE Sociology |
| GCSE Spanish | BTEC Sport | | |
Alternative Curriculum
The majority of students follow the curriculum outlined above however as a school, we are aware that this isn't suitable for all learners. We therefore offer a series of alternative curriculum activities designed to help students who require additional support in accessing the curriculum.
Curriculum for years 12 and 13
Following completion of their GCSEs, students who achieve the minimum entry criteria have the opportunity to study Advanced Level courses at The Robert Napier School. Students select their own curriculum based upon their interests and their success at GCSE. Students select 3 choices from the options indicated below.
Students who have yet to achieve a grade 4 or above in GCSE English or GCSE maths, are required to continue to study these until successful.
| | | | |
| --- | --- | --- | --- |
| A Level Biology | A Level Business | A Level Criminology | A Level English Language & Literature |
| BTEC L3 Sport | A Level Art | A Level Geography | BTEC L3 Health & Social Care |
| A Level History | OCR Cambridge Technical ICT | A Level Maths | A Level Sociology |
| A Level Politics | A Level Product Design | A Level Psychology | |